Are At-Home Workouts Effective?
Having trouble finding time to get to the gym? Frustrated by gym schedules for classes or childcare? Tired of waiting to use equipment? Perhaps you're beginning to wonder—are at-home workouts effective?
That's a question I used to have my doubts about. There was a time when I believed you had to spend hours a day in a gym to get results. But then a funny thing happened.
My Personal Experience
A couple of weeks after our oldest was born, Tracy was watching TV while nursing him when she saw an infomercial for an at-home workout program. As I was headed out the door to go to work, she said she wanted to order it. I said something about how she'd be better off joining a gym, but she persisted.
She had good reason. Before we met, Tracy was getting results working out at home to VHS tapes. Anybody remember those?
She ordered the program and did it a few times when it came in, but then life got busy and working out became less of a priority. We hadn't yet discovered How to Stay Motivated to Eat Healthy and Exercise.
Fast forward two years to my wake-up call. (You can read about that here.) I was a hundred pounds overweight and needed to start working out. We had two small children at home, and Tracy and I were on opposite schedules—she worked 7-3, and I worked 3-11. I was also taking seminary classes.
There was no time to get to a gym on a regular basis.
We were also struggling financially, which meant we didn't need to spend the $70 a month to join our local gym.
I was forced to find a way to work out at home. And that DVD program I had scoffed at was sitting there waiting for me.
From Skeptic To Believer

On Monday, September 4, 2006, my journey began.
Six weeks later I was down 27-pounds!
By Thanksgiving, I had down more than 40 pounds!
That's when I decided I was ready to take my workouts up a notch and ordered P90X as a Christmas gift to myself.
When I started my first round on January 1, 2007, I was already down 60 pounds.
I was excited and nervous at the same time—excited for what I dared to believe was possible and anxious because I knew it was going to be hard—really hard. I put the first DVD in for Chest & Back and heard Tony Horton say, "Don't say 'I can't,' say 'I presently struggle with.'" I did–and dropped 34 more pounds over the next 90 days.
By summer I had lost more than 100 pounds—all from using at-home workouts and following their nutrition plans.
If you ask me now, "are at-home workouts effective?" my answer is a resounding "Yes!"
Oh, and remember when I said I made fun of infomercial workout programs. Yeah, I have a confession to make. I was actually a featured story on the P90X infomercial in 2008.
Are At-Home Workouts Effective?

Are At-Home Workouts Effective?
11 Benefits of Working Out From Home
If my story inspired you to believe that at-home workouts really can be effective, here are few practical benefits of working out from home.
Save time
This is the excuse I hear most often from people when it comes to starting a workout routine—they don't have time. It's an excuse because you always find time for what's important to you. However, time is precious. The less you have to spend on your workouts, the more you have to spend doing other things, like spending time with your family.
Working out at home means you save time by not having to drive anywhere, which allows for more time to be spent exercising instead of traveling.
When you workout at home, you also save time by not having to worry about getting "fixed up" to workout. It doesn't matter what you look like, because no one else is looking.
I offer several program options that are around 30 minutes a day or less. And let's face it, everyone can find 30 minutes.

Save money
With an at-home-gym, there is no monthly membership payment or any fees to pay. A brand new gym just opened up in our hometown that has everyone talking. When we looked into it, we realized it was going to cost our family nearly $90 a month to join.
Since we have everything we need at home, it wasn't worth the extra money to join. Most of the workouts we do at-home have options to use bands. In fact, the first six months I worked out from home, all I used were bands. So, it's not necessary to go out and buy free weights unless you want to.
You could also be saving a substantial amount of money on gas by doing your workouts at home.
Are At-Home Workouts Effective?

Are At-Home Workouts Effective?
Privacy
As much as we all love to save time and money, a substantial percentage of people list privacy as a primary reason they workout at home.
Working out at home means there is no one looking at you. If you are overweight or self-conscious, you can relax and workout at whatever pace you want. I certainly didn't want anyone watching me when I was first starting out.
When you workout at home, you can spend more time focusing on your movements and engaging your muscles properly instead of focusing on the people around you. There's no "eye-candy" to distract you and nobody to compete against. Your only competition is yourself! Do your best, and then beat it!
Expert Trainers
Have you ever wandered around the gym unsure of what you should be doing? The best way to get results in any area of life is to follow an expert. But hiring a personal trainer can get expensive quick.
With at-home workouts programs, especially one like Beachbody-On-Demand that has literally hundreds of workouts you can stream from wherever you are, you get knowledge of experts at your fingertips.
The programs are designed by some of the worlds leading fitness experts, and tested on real people just like you. They also include nutrition guides designed by experts, as well as delicious recipes, to help you fuel your workouts and your results.
It's like having a super trainer in your home, showing you exactly what you need to do to get the best results.
Tracy just commented the other day at the end of her workout, "There's no way I would have pushed myself that hard or done that many reps on my own."
Noise
Working out at home means no noisy distractions. You don't have to listen to the guy next to you grunting and screaming through his reps. That would be me, by the way. You can yell, scream, grunt –even cry as loud as you want.
You can listen to music of your choice and blast it as loud as you want. You can even watch TV, listen to an audiobook, or follow your favorite workout video without interruption.
Control Your Environment
You can ensure that the equipment you use is up to date, clean, safe and that it fits the needs of your specific workout goals.
I taught Insanity classes at a gym that had standard wood floors with loose planks in the group fitness classroom. I eventually quit because they weren't getting fixed and it was a safety hazard.
When you workout at home, you never have to worry about a stranger leaving a puddle of bacteria-filled sweat behind. Many gyms can be hotbeds for infections like staph and MRSA, and there is just not enough staff to clean the machines after every use.
Flexibility
You can work out when it fits into your schedule. Maybe you have small children and carving out an hour of time to work out is not an option, not to mention the extra time spent driving to the gym.
When I started working out, we had a two-year-old and a two-month-old. I worked out when the boys went down for a nap. When that didn't work, I made a play area for them and worked out around them.
Working out at home allows you to work out in segments if you have to throughout your day. You can pop in your favorite workout video while waiting on dinner to cook or even after putting the kids to bed!
Having the flexibility of working out at home will help you to feel more relaxed which will ultimately help your body burn more calories because stress builds cortisol. Not to mention saving on childcare costs.
When you workout at home, bad weather conditions won't interfere with your workout schedule. With an at-home workout program, all you have to do is push play.
Creating a Healthy Family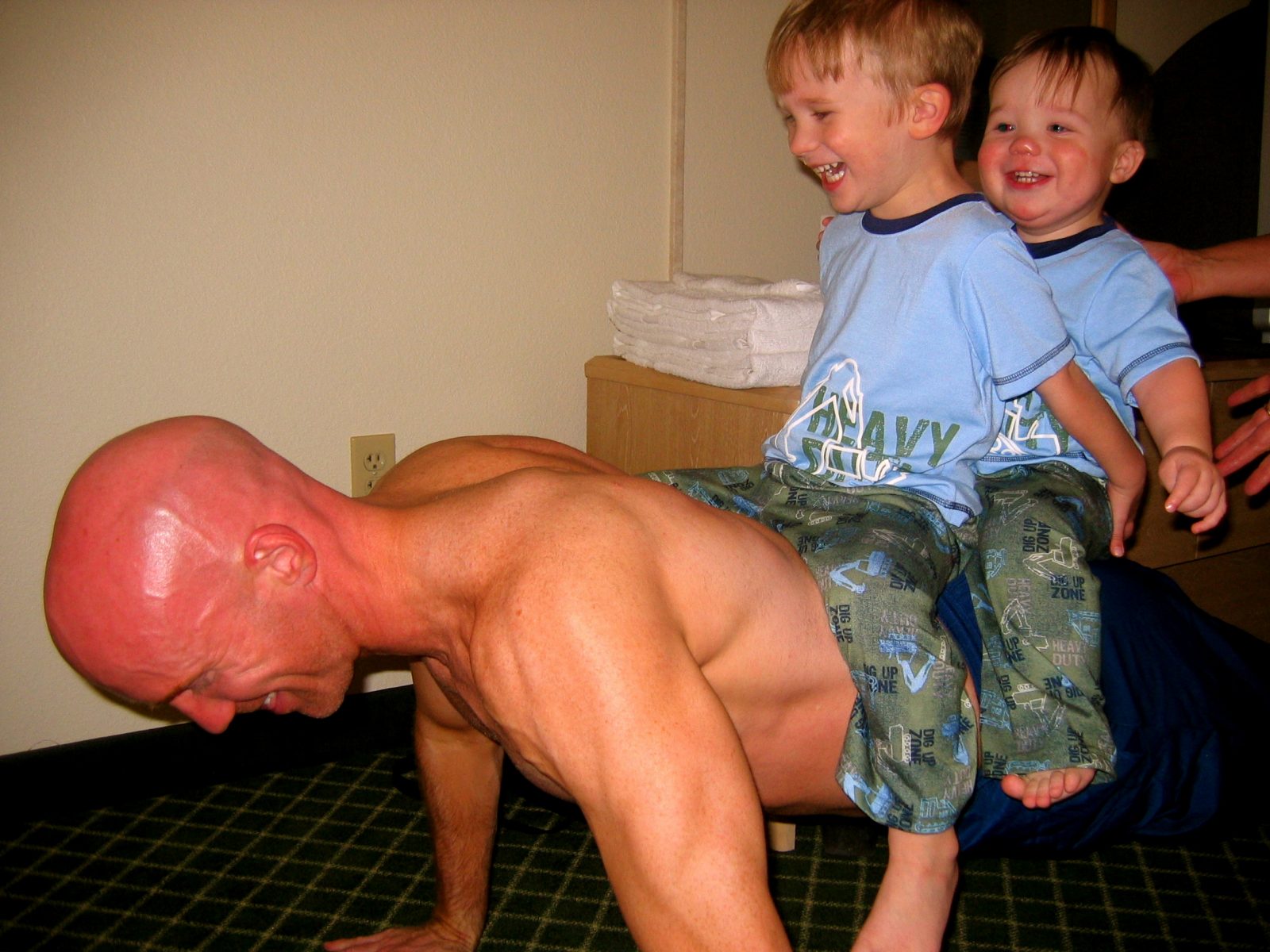 Working out at home enables you to spend more time with family. Incorporating your family into your workout routine not only brings you closer together but enrolling them in your workout goals will help motivate you to achieve them.
You also model a healthy lifestyle for your family. Children emulate their parents– you may find soon your little ones are trying to work out with you.
Safety
Your belongings are safe from theft instead of sitting in a locker room where you have to pay extra for a lock. You avoid running the risk of your keys getting lost or stolen while they are hanging on a key rack that people you do not know have access to during your workout.
Are At-Home Workouts Effective?

Are At-Home Workouts Effective?
Consistency
Not having to leave the house means you can work out more often and with more consistency making your workout more effective. This will help you stay on track with your goals and maintain a routine on a daily basis.
No Gym Stereotypes.
Ok, this one is just for fun. Nevertheless, it's hilarious because you know at least one person who fits each of these stereotypes. Some of them are probably even you. I know which ones I am. Which ones are you?
No Excuses
Your home gym is open every single day of the year, any time you are available to go! There are no time restrictions on the machines, no lines, no distractions, and most importantly no excuses are stopping you from getting in a good workout.
If you are truly serious about getting in shape and staying in shape, your mind is already thinking long term anyway. Because getting healthy and staying fit requires a lifestyle change. What better way to invest in yourself– long term– than to have your very own personal workout program that is available for you to use whenever and wherever you want.
Now, do you see why so many people are beginning to workout at home? If you are interested in these benefits, now is the time to take full advantage. Ask me how!
Are At-Home Workouts Effective?

Comments
comments